Where to find Arose from the Ashes Designs and Phoenix Discs.

Here is a list of everywhere you will be able to see Arose From the Ashes Designs and Phoenix Discs. I will update this list as I add more shows so check back from time to time.
Arose From the Ashses Designs
I have a booth set up at the Slatington Farmers Market 8281 Pa Route 873, Slatington, PA 18080. The Famers Market is open Fridays and Saturdays 9am to 10 pm and Sundays 10am to 6pm
March 24th - 26th. Springtime in the country Craft show Hamburg NY.
May 5th - 7th Bizarre Bizaar Richmond Va.
May 27th - 29th Woodstock/New Paltz Craft show New York
July 8th - 9th
Corn Hill Arts Festival Rochester NY
September 2nd - 4th Woodstock/New Paltz Craft show New York
October 5th - 8th Covered Bridge Festival Craft Show. Bloomsburg Pa.
November 29th to December 3rd Christmas Collection Bizarre Bizaar Richmond Va.
November and December 2023, Chriskindlemarkt Bethlehem Pa
Phoenix Discs
April 22nd, 2023 Once Around the Mountain Tournament South Mountain Disc Golf Course Bethlehem, Pa.
April 28th to 30th 2023 Glass Blown Open Emporia Kansas.
June 3rd. Peoples Championship Jordan Creek Disc golf Course
Allentown Pa.
June 27th & 28th Am & Junior Worlds Peoria IL.
August 4th and 5th Ledgestone Insurance Open Peoria IL.
Not everything I offer is online, and I also do a lot of custom orders, so if you do not see what you are looking for feel free to email me at info@arosefromtheashes.com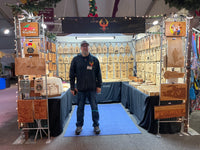 A little about myself.
My name is Andrew and I love to make stuff.  I enjoy working with wood. resin and other materials to make many cool items.  Just some of the things I enjoy making include cutting boards, wood turnings, coasters, custom trophies, ornaments, furniture, and much more. Feel free to ask about custom items.